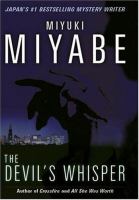 From Japan's #1 bestselling mystery author comes a new novel of suspense. Atmospheric, intriguing, and emotionally satisfying, "The Devil's Whisper" will delight the myriad fans of Miyabe's "All She Was Worth" and "Crossfire."
---
"The three deaths come in quick succession: one girl jumps from the roof of a six-story building; another falls in front of a train; and the third is hit by a late-night taxi. But how are these related? And are they accidents, suicides or murder?" "Slowly, the answers are uncovered by sixteen-year-old Mamoru, the nephew of the taxi driver currently being held by the police on charges of manslaughter for the death of the third victim." "Determined to help his uncle, Mamoru discovers that the girl killed by his uncle's taxi had participated in a devious scam to separate vulnerable men from their money, and that three of the four girls involved in the ploy are now dead." "A powerful businessman comes forward with new evidence in favor of Mamoru's uncle and also to reveal the truth about Mamoru's long-lost father, who disappeared when the boy was only four." "But in the meantime, Mamoru must go all out if he is to save the last of the four girls being targeted by the real killer." "And then the killer contacts him."--BOOK JACKET.
---
Sixteen-year-old Mamoru Kusaka has recently moved to Tokyo to live with his aunt and uncle after the death of his mother. Just as he is beginning to adjust to his new life, his uncle is involved in a late-night accident while driving his taxicab. A young coed is dead and Uncle Taiko is charged with manslaughter, even though the circumstances seem suspect. Struggling to help his uncle, Mamoru discovers that the victim had been involved in a cruel scam with three other young women. Two of the four have also recently died in similarly violent incidents. Several days after the accident, a powerful businessman comes forward as a witness. But instead of making things clearer, the mans testimony only adds more confusing lies and deceptions to an already puzzling case, as Mamoru races to save the last of the four women targeted by the real killer.