Summary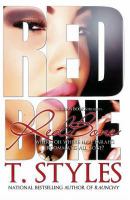 Where, oh where, have Farah's roommates all gone?
When Farah Cotton placesa classified ad stating, "Cute redbone female looking to share aluxury apartment with another redbone female,"many women apply.One look at the lush apartment in Washington, D.C., and every fly girl aroundwantsa chance to call Platinum Lofts her new home.
The momentFarah lays eyes onLesaCarmine, a pretty young woman with an active lifestyle and a sunnydisposition, she knowsshe'sfound the perfect girl for her ultimate plan. The two become fast friends--until Farah becomes intrusive and then her siblings move in, violating Lesa's privacy. Farah seems dangerous when she's around them, andLesa attempts to sever ties without paying rent.
Feeling overcome withblinding rage, Farah finds all kinds of ways to seek revenge. From poisoningto spreading vicious lies, she makes it known that she doesn't takeLesa'sbrush-offlightly.
WhenLesasnoops around in Farah's past and discoverswho she really is, she makes a grave mistake, onethat could jeopardize her life. Brace yourselves, because just when you think you have it figured out, you'll realize you don't."