Summary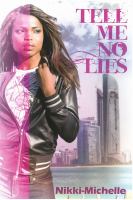 Chyanne Johnson has finally gotten her act together. After all of the drama that ensued when she discovered that Aric McHale--her former boss, lover, and father to her son--was married, Chyanne has found a man to call her own. She has it made in the shade . . . or so she thinks.
Stephanie, Aric's ex-wife, may have been found guilty of attempted murder, but she hasn't been sentenced yet. She is still free to walk to the streets.
Gabriel, Aric's best friend, is trying to deal with the fallout from Stephanie's conviction. He has to face issues surrounding his mother and father's secret relationship, as well as keep a secret from Aric that could ruin their friendship.
Aric thought he didn't want to be with Chyanne, until he saw how happy she was with Jamie. Now he's rethinking his decision to leave her alone. When it comes to Chyanne, what Aric wants is what Aric gets.
Jamie has some skeletons of his own that are about to fall out of the closet. With all of the lies that will be exposed, Jamie and Chyanne's seemingly perfect relationship just might come unraveled.