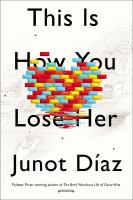 Readers who adored The Brief Wondrous Life of Oscar Wao, winner of both a Pulitzer Prize and a National Book Critics Circle Award, have been waiting five long years for Diazs next work. Here it is-a collection of short stories that focus on how love twists and turns us around.
---
Finalist for the 2012 National Book Award

A Time and People Top 10 Book of 2012
Finalist for the 2012 Story Prize
Chosen as a notable or best book of the year by The New York Times, Entertainment Weekly, The LA Times, Newsday, Barnes & Noble, Amazon, the iTunes bookstore, and many more...

"Electrifying." -The New York Times Book Review "Exhibits the potent blend of literary eloquence and street cred that earned him a Pulitzer Prize... Diaz's prose is vulgar, brave, and poetic." -O Magazine

From the award-winning author, a stunning collection that celebrates the haunting, impossible power of love. On a beach in the Dominican Republic, a doomed relationship flounders. In a New Jersey laundry room, a woman does her lover's washing and thinks about his wife. In Boston, a man buys his love child, his only son, a first baseball bat and glove. At the heart of these stories is the irrepressible, irresistible Yunior, a young hardhead whose longing for love is equaled only by his recklessness--and by the extraordinary women he loves and loses. In prose that is endlessly energetic, inventive, tender, and funny, these stories lay bare the infinite longing and inevitable weakness of the human heart. They remind us that passion always triumphs over experience, and that "the half-life of love is forever."