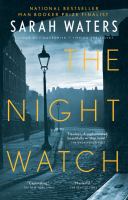 Set during the air raids, blacked-out streets, and sexual adventure of World War II London, "The Night Watch" is "the finest achievement yet" ("Guardian") from the bestselling author of "Fingersmith" and "Tipping the Velvet."
---
"[A] wonderful novel...Waters is almost Dickensian in her wealth of description and depth of character."--Chicago Tribune

Moving back through the 1940s, through air raids, blacked-out streets, illicit partying, and sexual adventure, to end with its beginning in 1941, The Night Watch tells the story of four Londoners--three women and a young man with a past--whose lives, and those of their friends and lovers, connect in tragedy, stunning surprise and exquisite turns, only to change irreversibly in the shadow of a grand historical event.