Summary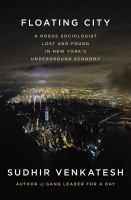 The bestselling author of "Gang Leader for a Day" reveals the secrets of New Yorks underground economy in this vivid memoir of sociological investigation
"This is New York Were like hummingbirds, man," explains Shine, a small-time Harlem crack dealer breaking into the elite cocaine market. "We go flower to flower. Didnt they teach you that in Chicago?" Sudhir Venkateshs last book arose from his groundbreaking work in Chicago, revealing the true cost of doing business for drug gangs in the citys worst housing projects. After a decade learning the critical lesson of urban poverty--"your neighborhood is your fate"--Venkatesh arrived in New York expecting the same harsh certainty. But what Shine shows Venkatesh is something wholly unexpected: a city where neighborhoods mean nothing and networks mean everything, where the distinctions between race and class simply dissolve.
In "Floating City," Venkatesh explores New Yorks highs and lows--the trust-fund socialites with their cocktail parties and elite sex work, the recent immigrants with their illicit jobs and sordid compromises--and discovers a city of tremendous social transformation. Exposing the immigrant nannies working off the books for young professionals in high-priced condos, the black low-income drug dealers serving white hedge fund traders and hip artists, Venkatesh reveals a global city knit together by the invisible shifting threads of the underground economy. Searching for a grand theory to explain the intersecting world of both rich and poor, Venkatesh wonders: Isnt it possible that staring up at the skyscrapers made you blind to the true picture? Of course, Shine counsels, youre not in Chicago anymore. Here in New York, "You need to float."
"Floating City: A Rogue Sociologist Lost and Found in New Yorks Underground Economy" follows Venkateshs journeys through the "vast invisible continent" of New Yorks underground economy, an unseen world linking and strengthening the enormous diversity of a new global city in the throes of becoming. "Floating City" reveals the real winners and losers of the new economy, the thriving elites who pull the levers of power and the desperate laborers who always risk falling off the bottom. Propelled by Venkateshs interviews with hundreds of prostitutes, madams, drug dealers, and immigrants, "Floating City" is the ultimate journey into the true workings of Americas most diverse and influential city.