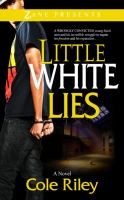 When a high school basketball star
becomes entangled in a rape charge, media schemes, and legal deception, he must confront all the people who turned their backs on him. Will he gain justice or be wrongfully charged of this terrible crime?
Melvin is seventeen, the star of his basketball team, and expected to have a bright future. But it all goes to pieces one night when he joins his brothers thug friends at a wild party with two rich white girls. Drugged and drunk for most of the night, Melvin misses a brutal assault on the two girls. When the crime comes to light, he is arrested and charged with masterminding the gang rape. One of the girls fathers is a prominent prosecutor, who persuades the girls to lie on Melvinall because he hates the possibility that a young black man could succeed in life. He wants to crush him, and Melvin doesnt stand a chance.

Confused and physically drained, Melvin confesses to the crime. His public defender goes to trial without ever putting him on the stand. Mentally exhausted, Melvin tries to kill himself and is put into a hospital where he cant hurt himself. But then, unexpectedly, a reporter interviews him and finds overlooked flaws in the case. After a determined effort, one of the girls cracks and reveals the series of lies that has earned Melvin years in the mental hospital. Finally, the case is reviewed, and he is released.

But things dont end there. Melvins family, rather than rejoice at his freedom, turn on him. His father is only concerned with the settlement he will receive from the state. They battle at his coming-home party and eventually, Melvin leaves to seek his life elsewhere.

For fans of Richard Wrights Native Son, John Grishams The Confession, or Stephen Kings The Shawshank Redemption, Little White Lies is a must-read novel. Full of deception, emotional trauma, and brilliant crime stories ripped from todays headlines, you wont be disappointed.