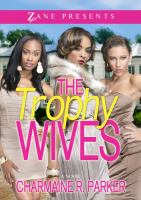 Three trophy wives explore ways of finding satisfaction beyond their boring marriages-until a mysterious woman joins their circle and threatens to undo their perfect lives.
Shayla, Kyle, and Amber have a lot in common: stunning good looks, college educations, rich husbands, and-despite their affluent lifestyles-dissatisfaction with their lives. Each feels there is a void in her dream relationship and begins to seek fulfillment beyond the routine of a trophy wife.

The three often draw support from each other, but despite their close-knit relationship, each has her own secret she's not willing to share. So when another woman, Terra, befriends the trio, they start to wonder whether she's a sincere new member of their club or whether she has her own special agenda…

As the skeletons in their closets start to come out, Shayla, Kyle, and Amber discover that glamorous looks and coveted worlds cannot shield them from the realities of life. Discover what happens when scandal meets suspense among these smart, rich-yet vulnerable-women.