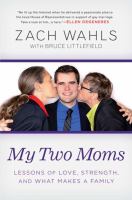 In January 2011, charming Eagle Scout and engineering student Wahls told the Iowa House of Representatives that the sexual orientation of his two moms had "zero effect" on the content of his character. His speech soon went viral. Here he expands on his life story, speaking to all those who feel like outsiders. Needed, and Wahls is a known quantity.
---
A resounding testament to individuality and the power of family in all forms from the young man who "lit up the Internet" (Ellen DeGeneres)

On January 31, 2011, Zach Wahls addressed the Iowa House Judiciary Committee in a public forum regarding full marriage equality. The nineteen-year-old son of a same-sex couple, Wahls proudly proclaimed, "The sexual orientation of my parents has had zero effect on the content of my character." Hours later, his speech was posted on YouTube, where it went viral, quickly receiving more than two million views. By the end of the week, everyone knew his name and wanted to hear more from the boy with two moms.

Same-sex marriage will be a major--possibly the defining--issue in this year's election cycle, and Wahls speaks to that, but also to a broader issue.  Sure, he's handsome and athletic, an environmental engineering student, and an Eagle Scout. Yet, growing up with two moms, he knows what it's like to feel different and to fear being made fun of or worse. In the inspirational spirit of It Gets Better edited by Dan Savage and Terry Miller, My Two Moms also delivers a reassuring message to same-sex couples, their kids, and anyone who's ever felt like an outsider: "You are not alone."