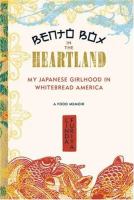 "Linda Furiya's girlhood in the small Indiana farm community where she grew up was marked by her differences: She was the only Asian in her school, the only girl whose mother packed rice balls and chopsticks in her lunch box, the only one whose parents' idea of a family vacation was loading the station wagon with an oversized cooler and driving across state lines in search of fresh fish." "Bento Box in the Heartland is the coming-of-age story of a girl whose struggles with assimilation in Midwestern America are touchingly juxtaposed with her tender affection for the Japanese foods that provided her parents with a crucial link to their homeland. Furiya tells of a childhood that was profoundly affected by her family's obsession with food, the care taken in the preparation of each recipe, and the importance of savoring every meal. Her memoir is a uniquely American tale."--BOOK JACKET.
---
While growing up in Versailles, an Indiana farm community, Linda Furiya tried to balance the outside world of Midwestern America with the Japanese traditions of her home life. As the only Asian family in a tiny township, Furiya's life revolved around Japanese food and the extraordinary lengths her parents went to in order to gather the ingredients needed to prepare it.
As immigrants, her parents approached the challenges of living in America, and maintaining their Japanese diets, with optimism and gusto. Furiva, meanwhile, was acutely aware of how food set her apart from her peers: She spent her first day of school hiding in the girls' restroom, examining her rice balls and chopsticks, and longing for a Peanut Bullter and Jelly sandwich.
Bento Box in the Heartland is an insightful and reflective coming-of-age tale. Beautifully written, each chapter is accompanied by a family recipe of mouth-watering Japanese comfort food.