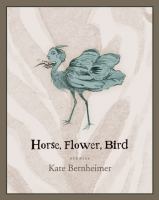 Eight marvelous, melancholy new fairy tales for daring readers.
---
"Each of these spare and elegant tales rings like a bell in your head. memorable, original, and not much like anything you've read."--Karen Joy Fowler
"A strange and enchanting book, written in crisp, winning sentences; each story begs to be read aloud and savored."--Aimee Bender
"Horse, Flower, Bird rests uneasily between the intersection of fantasy and reality, dreaming and wakefulness, and the sacred and profane. Like a series of beautiful but troubling dreams, this book will linger long in the memory. Kate Bernheimer is reinventing the fairy tale."--Peter Buck, R.E.M.
In Kate Bernheimer's familiar and spare--yet wondrous--world, an exotic dancer builds her own cage, a wife tends a secret basement menagerie, a fishmonger's daughter befriends a tulip bulb, and sisters explore cycles of love and violence by reenacting scenes from Star Wars.
Enthralling, subtle, and poetic, this collection takes readers back to the age-old pleasures of classic fairy tales and makes them new. Their haunting lessons are an evocative reminder that cracking open the door to the imagination is no mere child's play, that delight and tragedy lurk in every corner, and that we all "have the key to the library . . . only be careful what you read."