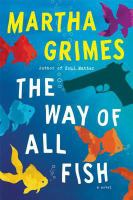 A wickedly funny sequel to Grimess bestselling novel, "Foul Matter," "a satire of the venal, not to say murderous practices of the New York publishing industry" ("The New York Times Book Review").

Writer Cindy Sella is having trouble with her next novel. Aside from her paralyzing writers block, shes faced with a lawsuit from her ex-agent, L. Bass Hess. Hess will stop at nothing to collect a commission from Cindy on her previous novel, which he did not represent since she had fired him long before it was published.

Hitmen Candy and Karl--first introduced in "Foul Matter"--are asked to "get rid" of L. Bass Hess, but almost decline the assignment after their initial surveillance of him. When they hear about his preposterous lawsuit against Cindy Sella, though, they decide to help. Candy and Karl devise a series of zany capers to drive Hess out of New York City--permanently.

Grimess loyal fans will delight in the return of several colorful characters from "Foul Matter, "including the successful writer Paul Giverney and his seven-year-old daughter Hannah (who is still writing her book); editor Clive Esterhaus (who has a penchant for long, boozy lunches); unprincipled publisher Bobby Mackenzie and one of his assistants, Bunny Fogg; and ex-hitman and bestselling author Danny Zito (currently living in the Chelsea section of NYC under the witness protection program). New readers will find these characters and their escapades shed an amusing light on the New York publishing scene.