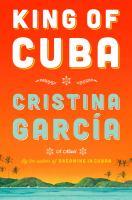 Told with wry wit and keen insight, this entertaining and richly satisfying story about a fictionalized Fidel Castro andan octogenarian Cuban exile obsessed with seeking revenge against the dictator—from the National Book Award finalist and author ofDreaming in Cuban.
El Comandante, an aging Castro-like dictator shambles about his mansion in Havana, visits a dying friend, tortures hunger strikers in one of his prisons, and grapples with the stale end of his life that is as devoid of grandeur as his nearly sixty-year-old revolution. Across the waters in Florida, Goyo Herrera, a Miami exile in his eighties, plots revenge against his longtime enemy—the very same El Comandante—whom he blames for stealing his beloved, ruining his homeland, and taking his father's life.
Shifting between the two men with great resonance and humor, and peppered with the rabble of other Cuban voices that create a patchwork of history's unofficial stories, GarcÍa's novel plumbs the passions and realities of these two Cubas—on the island, and off. Writing at the top of her form, GarcÍa returns to the territory of her homeland and her bestselling novelDreaming in Cuban.