Summary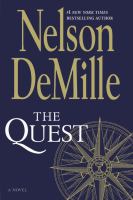 A timeless story that has resonated for 2,000 years...
From the dusty archives of the Vatican to the overgrown jungles of Ethiopia, an unlikely crew of four begins a deadly search for the Holy Grail.
Two reporters, a mercenary soldier, and a devastatingly beautiful photographer are caught in the upheaval of an Ethiopian civil war. When they encounter a dying priest who has escaped from a bombed-out jungle prison, he reveals to them an incredible secret-the location of Christs cup from the Last Supper hidden in a remote monastery. Thus begins their Quest-a deadly adventure that pits them against murderous tribesmen, shadowy assassins, fanatical Coptic monks, and ultimately against the powers of the Grail itself.
In the best Nelson DeMille tradition, THE QUEST takes readers on a heart-pounding, thrilling ride where good eventually triumphs-but at a steep price.