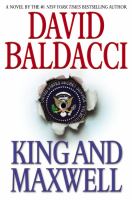 No plot details yet, but note that this sixth book in the Sean King and Michelle Maxwell series, whose previous titles have all hit the top spot on the New York Times best sellers list. TNT has just ordered a ten-episode television series based on King and Maxwells exploits, and theres a 700,000-copy first printing.
---
David Baldacci brings back Sean King and Michelle Maxwell--former Secret Service agents turned private investigators--in their most surprising, personal, and dangerous case ever . . .

KING AND MAXWELL

It seems at first like a simple, tragic story. Tyler Wingo, a teenage boy, learns the awful news that his father, a soldier, was killed in action in Afghanistan. Then the extraordinary happens: Tyler receives a communication from his father . . . after his supposed death.

Tyler hires Sean and Michelle to solve the mystery surrounding his father. But their investigation quickly leads to deeper, more troubling questions. Could Tyler's father really still be alive? What was his true mission? Could Tyler be the next target?

Sean and Michelle soon realize that they've stumbled on to something bigger and more treacherous than anyone could have imagined. And as their hunt for the truth leads them relentlessly to the highest levels of power and to uncovering the most clandestine of secrets, Sean and Michelle are determined to help and protect Tyler--though they may pay for it with their lives.