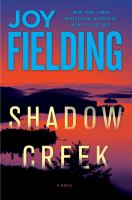 A killers-in-the-wilderness book from Fielding, who often edges her tales of personal grief with something a little bloodier. A ragtag group of hikers comprising one woman, her two oddball friends, her teenage daughter, and her soon-to-be-ex-husbands fiancee march through the Adirondacks, finally settling near Shadow Creek. Teenaged Brianne slips away to be with her boyfriend and cant be found in the morning. Alas, a murderous duo are haunting the environs. Fielding has a fond following.
---
There's something deadly lurking in the shadows at Shadow Creek . . .
Due to a last-minute change in plans, a group of unlikely traveling companions finds themselves on a camping trip in the Adirondacks. They include the soon-to-be-divorced Valerie; her oddball friends, Melissa and James; her moody teenage daughter, Brianne; and Val's estranged husband's fiancée, Jennifer. Val is dealing with unresolved feelings toward her ex and grappling with jealousy and resentment toward his younger, prettier new flame, a woman with some serious issues of her own. Brianne is sixteen and openly rebellious, caught up in a web of secrets and lies.
What Val and her companions don't know is that a pair of crazed killers is wreaking havoc in the very same woods. When an elderly couple is found slaughtered and Brianne goes missing, Val finds herself in a nightmare much worse than anything she could have anticipated. She was half-expecting it to be the trip from hell, but what she never could have predicted was that this impromptu little excursion