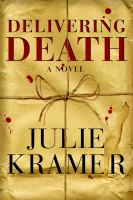 From the author of Stalking Susan comes the latest installment in the "compulsively readable" (WCCO-TV) bestselling Riley Spartz thriller series, featuring a smart, sassy, and always entertaining TV reporter as she matches wits with a media-savvy killer.

The most appealing mystery heroine since Janet Evanovichs Stephanie Plum, TV reporter Riley Spartz is a star investigative journalist for Channel 3--and no stranger to the seedier side of her hometown. But when she receives a package of smelly human teeth in the mail at work, shes quickly embroiled in a homicide investigation that spirals into one of the odder cases the Minneapolis police force has ever seen. Though the cops try to keep certain grisly details quiet, this murder has a strange twist--it seems that the killer wants the crime publicized.

Is it a revenge killing, or something more? Rileys investigation takes her inside a lucrative identity theft ring that links low-life crooks like now-dead Leon Akume to white-collar opportunists like once-wealthy Jack Clemens. Despite a prime motive for murder, Jack also has the ultimate alibi: hes behind bars. While Riley pushes to keep the homicide in the news, her boss is convinced that coverage of the Mall of Americas unique version of a royal wedding is key to the station winning ratings. As the stakes continue to rise for her job and her life, Riley must outwit the killer in a trap that could leave yet another person dead...

An irresistible suspense novel that will keep readers turning pages until the stunning conclusion, "Delivering Death" brings the humor, intrigue, and twists and turns Julie Kramers fans have been waiting for.