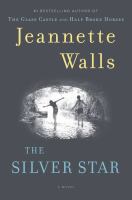 Wallss memoir, The Glass Castle, has been a New York Times best seller for more than five years, and her first novel, Half-Broke Horses, was revelatory. So Im anticipating this Seventies-set tale about two sisters, "Bean" and Liz Holladay, who wind up in a crumbling antebellum mansion with widowed Uncle Tinsley when their footloose mother vanishes. Twelve-year-old Bean looks up to big sister Liz, but its Liz who stumbles at their new school and finally runs into some very adult trouble. With a 500,000-copy first printing.
---
From one of the bestselling memoirists of all time, a stunning and heartbreaking novel about an intrepid girl who challenges the injustice of the adult world—a triumph of imagination and storytelling.
It is 1970. "Bean" Holladay is twelve and her sister Liz is fifteen when their artistic mother Charlotte, a woman "who flees every place she's ever lived at the first sign of trouble," takes off to "find herself." She leaves her girls enough money for food to last a month or two. But when Bean gets home from school one day and sees a police car outside the house, she and Liz board a bus from California to Virginia, where their widowed Uncle Tinsley lives in the decaying antebellum mansion that's been in the family for generations.
An impetuous optimist, Bean discovers who her father was, and learns many stories about why their mother left Virginia in the first place. Money is tight so Liz and Bean start babysitting and doing office work for Jerry Maddox, foreman of the mill in town, a big man who bullies workers, tenants, and his wife. Bean adores her whip-smart older sister, inventor of word games, reader of Edgar Allan Poe, non-conformist. But when school starts in the fall, it's Bean who easily adjusts and makes friends, and Liz who becomes increasingly withdrawn. And then something happens to Liz in the car with Maddox.
The author ofThe Glass Castle, hyper-alert to abuse of adult power, has written a gorgeous, riveting, heartbreaking novel about triumph over adversity and people who find a way to love the world despite its flaws and injustices.