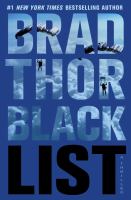 The list? Comprising enemies of the nation, its known to very few, and once your name has been placed there by the President, it wont be erased until you are. Alas, Navy SEAL-turned-counterterrorism operative Scot Harvath must spend the novel evading assassins so that he can figure out why he got listed. From a No. 1 New York Times best-selling author gearing up for a ten-city tour.
---
A stunning thriller that predicted the National Security Agency scandal. "Brad Thor is as current as tomorrow's headlines." --Dan Brown #1 New York Times bestselling author Brad Thor returns with his most explosive thriller ever. Somewhere deep inside the United States government is a closely guarded list. Members of Congress never get to see it--only the President and a secret team of advisers. Once your name is on the list, it doesn't come off . . . until you're dead.
Someone has just added counterterrorism operative Scot Harvath's name.
Somehow Harvath must evade the teams dispatched to kill him long enough to untangle who has targeted him and why they want him out of the way.
Somewhere, someone, somehow can put all the pieces together. The only question is, will Harvath get to that person before the United States suffers the most withering terrorist attack ever conceived? An intense, page-turning novel that is action-packed and frighteningly real, Black List blurs the line between fiction and reality and once again reaffirms why Brad Thor "is arguably the best thriller writer of our time" (Suspense Magazine) and "America's favorite author" (KTTX).