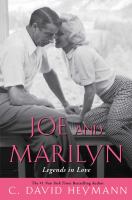 The riveting, true story of the passionate, sometimes volatile relationship between baseball great Joe DiMaggio and Hollywood icon Marilyn Monroe.
---
The author of Bobby and Jackie and The Georgetown Ladies' Social Club, among other titles, Heymann is a purveyor of upper-crust, hot-item biography. Here he takes on the star-crossed marriage of Joe DiMaggio and Marilyn Monroe.
---
When Joe DiMaggio and Marilyn Monroe eloped in January 14, 1954 they became an international sensation. Images of America's most famous baseball player and Hollywood's biggest star flooded the media.

Joe and Marilyn reveals the true inside story of these two iconic figures whose marital troubles became apparent during the now famous skirt-blowing scene in Monroe's filming ofThe Seven Year Itch. Though their marriage only lasted nine months, they remained close until Monroe's mysterious death in 1962 at the age of thirty-six. He had a half-dozen red roses delivered three times a week to her crypt for twenty years. According to Heymann, DiMaggio remained devoted to her until his own death in 1999.

Based on extensive archival research and personal interviews with family and friends, Joe and Marilynoffers great insight into this famously tragic romance. Sixteen pages of striking photos accompany this unforgettable and quintessentially American story.