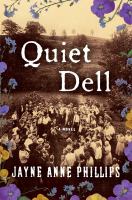 In 1930s Illinois, recently widowed Asta Eicher gratefully welcomed the attentions of Harry Powers, who later murdered her and her children for their money-one of many similar killings he committed. Eventually, he was executed in West Virginia, not far from where Phillips grew up. Brilliant at locating darkness in the ordinary (see her National Book Award finalist, Lark and Termite), Phillips goes to the edge as she reimagines Powerss life. This story has been tumbling around in Phillipss mind for four decades, so it should be polished to -perfection.
---
From one of Americas most accomplished and acclaimed fiction writers, a chilling, spectacularly riveting novel based on a real life multiple murder by a con man who preyed on widows--a story that has haunted Jayne Anne Phillips for more than four decades.

Jayne Anne Phillipss debut collection, "Black Tickets," galvanized critics and readers when it was published in 1979 and announced her as one of the great new voices of her generation. Her four novels, prizewinners and reader favorites, have secured her place as one of Americas most celebrated storytellers. In "Quiet Dell," Phillips re-imagines a gruesome crime in a tiny West Virginia community not far from where she grew up.

In Chicago in 1931, Asta Eicher, mother of three, is lonely and despairing, pressed for money after the sudden death of her husband. She begins to receive seductive letters from a chivalrous, elegant man named Harry Powers, who promises to cherish and protect her, ultimately to marry her and to care for her and her children. Weeks later, the family are dead.

Emily Thornhill, one of the few women in the Chicago press, covers the case and becomes deeply invested in understanding what happened to this beautiful family, particularly to the youngest child, Annabel, an enchanting girl with a precocious imagination and sense of magic. Bold and intrepid, Emily allies herself with the Chicago banker who funds the investigation and who is wracked by guilt for not saving Asta. Driven by secrets of their own, the heroic characters in this magnificent tale will stop at nothing to ensure that Powers is convicted. A mesmerizing retelling of a harrowing crime, "Quiet Dell" is a tour de force of obsession and imagination.