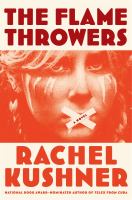 Kushner launched herself splendidly with her debut, Telex from Cuba, a New York Times best seller and finalist for the 2008 National Book Award. Her new work sounds even better. When Reno heads to New York in 1977, hoping to make art of her fascination with motorcycles, she falls in with some artists/squatters in not-yet-chic Soho. Then she falls for the scion of an Italian motorcycle empire and travels to Italy, where (calamitously) shes drawn into the radical movement there. Huge in-house excitement.
---
Rachel Kushners first novel, "Telex from Cuba, "was nominated for a National Book Award and reviewed on the cover of "The New York Times Book Review." Her second novel, even more ambitious and brilliant, is the riveting story of a young artist and the worlds she encounters in New York and Rome in the mid-1970s--by turns underground, elite, and dangerous.

The year is 1975 and Reno--so-called because of the place of her birth--has come to New York intent on turning her fascination with motorcycles and speed into art. Her arrival coincides with an explosion of activity in the art world--artists have colonized a deserted and industrial SoHo, are staging actions in the East Village, and are blurring the line between life and art. Reno meets a group of dreamers and raconteurs who submit her to a sentimental education of sorts. Ardent, vulnerable, and bold, she begins an affair with an artist named Sandro Valera, the semi-estranged scion of an Italian tire and motorcycle empire. When they visit Sandros family home in Italy, Reno falls in with members of the radical movement that overtook Italy in the seventies. Betrayal sends her reeling into a clandestine undertow.

"The Flamethrowers "is an intensely engaging exploration of the mystique of the feminine, the fake, the terrorist. At its center is Kushners brilliantly realized protagonist, a young woman on the verge. Thrilling and fearless, this is a major American novel from a writer of spectacular talent and imagination.