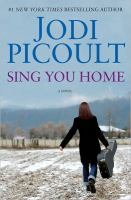 From the award-winning, #1New York Timesbestselling author whomUSA TODAYcalls a "master of the page-turner," comes the spectacular story of a woman's complex quest to form a family.

Zoe Baxter has spent ten years trying to get pregnant, and after multiple miscarriages and infertility issues, it looks like her dream is about to come true. But a terrible turn of events leads to a nightmare—one that takes away her unborn baby and breaks apart her marriage to Max. In the aftermath, Zoe throws herself into her career as a music therapist. When Zoe is hired by Vanessa, a school counselor, their relationship blossoms, to Zoe's surprise, from business to love. Eventually Zoe and Vanessa want to start a family, using the frozen embryos she and Max still have.

Meanwhile, Max has found peace at the bottom of a bottle—until he is redeemed by a charismatic pastor determined to fight the "homosexual agenda" that has threatened traditional family values. This mission becomes personal for Max when Zoe and Vanessa want permission to raise his unborn child.

AsThe Washington Postsaid, "Picoult has become a master—almost a clairvoyant—at targeting hot issues and writing highly readable page turners."Sing You Homeis no exception and is sure to have people grappling with difficult questions about what defines a family.