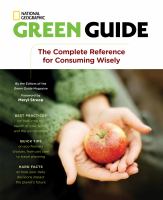 "These are only a few of the hundreds of pieces of sound information and practical advice that you will find in Green Guide. It's a comprehensive resource for every thoughtful, intelligent, eco-conscious reader, and a handbook for the hard decisions we make every day of our lives."--BOOK JACKET.
---
Paper or plastic? Organic or conventional? In a world that is rapidly going "green," how does the average person make decisions that are smart for the familyand good for the planet? The Green Guide is here to help, with the concepts and choices for Earth-conscious living. Presented in concise, information-packed chapters, this up-to-the-minute resource touches on every aspect of our lives, from grocery shopping to housecleaning to work, travel, and investingenabling consumers to make informed decisions and simple changes that impact the planet in big ways. Easy-to-follow information and hundreds of fascinating sidebars, fact boxes, and other key elements recommend how you can replace unhealthy and environmentally damaging practices and products with more wholesome, comfortable, and aesthetically pleasing alternatives. Neither scholarly nor scare-mongering in tone, the lively text has been written in partnership with a board of noted expertsoffering readers the most authoritative, engaging, comprehensive, and in-depth reference of its kind.
Created by two of the strongest brands in conservation and the environment, and drawn from more than ten years of reputable coverage in The Green Guide newsletter, on-line and in print, this comprehensive resource is destined to become a must-have for millions of families and the first name in household reference books in this up-and-coming category."