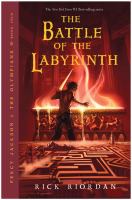 When demonic cheerleaders invade his high school, Percy Jackson hurries to Camp Half Blood, from whence he and his demigod friends set out on a quest through the Labyrinth, while the war between the Olympians and the evil Titan lord Kronos draws near.
---
For Eva, a young girl with a lively imagintation, a seemingly ordinary box becomes a portal to a magical, wonder-filled world.

Eva wishes for a pet. She reaches into her magic box and pulls out Monty. But he's not quite what she had in mind. (He's a polar bear.) What else might be in the magic box? A colony of festive rabbits, some delicious food, and a band of the very best musicians (including a sax-playing leopard)! The party is officially on!

Once everyone has danced their socks off, Eva clicks her fingers to make everything vanish.

Well, not quite everything...

Katie Cleminson's lively and fanciful illustrations are the perfect vehicle to convey the transformative power of a young child's imagination.