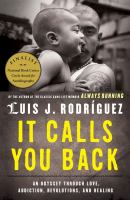 Hundreds of thousands of readers came to know Luis J. RodrÍguez through his fearless classic,Always Running,which chronicled his early life as a young Chicano gang member surviving the dangerous streets of East Los Angeles. The long awaited follow-up,It Calls You Back,is the equally harrowing story of RodrÍguez starting over, at age eighteen, after leaving gang life—the only life he really knew.

It Calls You Backopens with RodrÍguez's final stint in jail as a teenager and follows his struggle to kick heroin, renounce his former life, and search for meaningful work. He describes with heartbreaking honesty his challenges as a father and his difficulty leaving his rages and addictions completely behind. Even as he breaks with "la vida loca" and begins to discover success as a writer and an activist, RodrÍguez finds that his past—the crimes, the drugs, the things he'd seen and done—has a way of calling him back.

When his oldest son is sent to prison for attempted murder, RodrÍguez is forced to confront his shortcomings as a father and to acknowledge how and why his own history is repeating itself, right before his eyes.

Deeply insightful and beautifully written,It Calls You Backis an odyssey through love, addiction, revolutions, and healing.