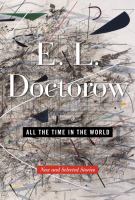 Six new Doctorow stories, never before in book form! Plus the best of the rest. Doctorow packs worlds into his short fiction: witness the story here about an everyday guy who suddenly opts to live off the grid, or another about a waiter whose immigrant Russian wife entangles him in organized crime. Doctorow's recent Homer & Langley has sold 165,000 copies so far, not as many as the Pulitzer Prize-winning The March or the phenomenal Ragtime, of course, but still a hefty number for any literary author. Can't wait.
---
From Ragtime and Billy Bathgate to World's Fair, The March, and Homer & Langley, the fiction of E. L. Doctorow comprises a towering achievement in modern American letters. Now Doctorow returns with an enthralling collection of brilliant, startling short fiction about people who, as the author notes in his Preface, are somehow "distinct from their surroundings--people in some sort of contest with the prevailing world".

A man at the end of an ordinary workday, extracts himself from his upper-middle-class life and turns to foraging in the same affluent suburb where he once lived with his family.

A college graduate takes a dishwasher's job on a whim, and becomes entangled in a criminal enterprise after agreeing to marry a beautiful immigrant for money.

A husband and wife's tense relationship is exacerbated when a stranger enters their home and claims to have grown up there.

An urbanite out on his morning run suspects that the city in which he's lived all his life has transmogrified into another city altogether.

These are among the wide-ranging creations in this stunning collection, resonant with the mystery, tension, and moral investigation that distinguish the fiction of E. L. Doctorow. Containing six unforgettable stories that have never appeared in book form, and a selection of previous Doctorow classics, All the Time in the World affords us another opportunity to savor the genius of this American master.