Summary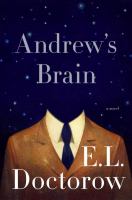 This brilliant new novel by an American master, the author of" Ragtime, The Book of Daniel, Billy Bathgate, "and" The March, "takes us on a radical trip into the mind of a man who, more than once in his life, has been an inadvertent agent of disaster.
Speaking from an unknown place and to an unknown interlocutor, Andrew is thinking, Andrew is talking, Andrew is telling the story of his life, his loves, and the tragedies that have led him to this place and point in time. And as he confesses, peeling back the layers of his strange story, we are led to question what we know about truth and memory, brain and mind, personality and fate, about one another and ourselves. Written with psychological depth and great lyrical precision, this suspenseful and groundbreaking novel delivers a voice for our times--funny, probing, skeptical, mischievous, profound. "Andrews Brain" is a surprising turn and a singular achievement in the canon of a writer whose prose has the power to create its own landscape, and whose great topic, in the words of Don DeLillo, is "the reach of American possibility, in which plain lives take on the cadences of history."
Praise for E. L. Doctorow
"On every level, Doctorows] work is powerful. . . . His sensitivity to language is perfectly balanced, and complemented by a gigantic vision."--Jennifer Egan
"E. L. Doctorow is a national treasure, and I mean this in a very specific sense: He has rewarded us, these forty-five years, with a vision of ourselves, as a people, a vision possessed of what I might call aspirational verve--he sees us clearly and tenderly, just as we are, but also sees "past" that--to what we might, at our best, become."--George Saunders
" His great topic is] the reach of American possibility, in which plain lives take on the cadences of history. . . . Doctorows prose tends to create its own landscape, and to become a force that works in opposition to the power of social reality."--Don DeLillo
"A writer of dazzling gifts and boundless imaginative energy."--Joyce Carol Oates, "The New Yorker"
"One of our greatest living writers . . . a virtuosic storyteller with enormous range."--"People"
"Doctorow is a magician. . . . His prose is dazzling."--"Vogue"