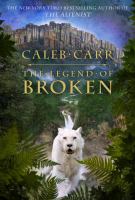 Back in 1994, Carr landed like a meteorite with The Alienist, which has sold over two million copies in all formats to date. Subsequent titles ricocheted from Victorian England to 2023. Here Carr travels to the medieval era, where a fortress may fall to the roiling invaders without or the undermining forces within. Will this outsell The Alienist? Well see.
---
"A sprawling fantasy saga . . . Caleb Carr boldly goes where hes never gone before."--"USA Today
"
Legend meets history in this mesmerizing novel from #1 "New York Times" bestselling author Caleb Carr. Demonstrating the rich storytelling, skillful plotting, and depth of research he showcased in "The Alienist, " Carr has written a wildly imaginative, genre-bending saga that redefines the boundaries of literature.
Some years ago, a remarkable manuscript long rumored to exist was discovered: The Legend of Broken. It tells of a prosperous fortress city where order reigns at the point of a sword--even as scheming factions secretly vie for control of the surrounding kingdom. Meanwhile, outside the citys granite walls, an industrious tribe of exiles known as the Bane forages for sustenance in the wilds of Davon Wood.
At every turn, the lives of Brokens defenders and its would-be destroyers intertwine: Sixt Arnem, the widely respected and honorable head of the kingdoms powerful army, grapples with his conscience and newfound responsibilities amid rumors of impending war. Lord Baster-kin, master of the Merchants Council, struggles to maintain the magnificence of his kingdom even as he pursues vainglorious dreams of power. And Keera, a gifted female tracker of the Bane tribe, embarks on a perilous journey to save her people, enlisting the aid of the notorious and brilliant philosopher Caliphestros. Together, they hope to exact a ruinous revenge on Broken, ushering in a day of reckoning when the mighty walls will be breached forever in a triumph of science over superstition.
Breathtakingly profound and compulsively readable, Caleb Carrs long-awaited new book is an action-packed, multicharacter epic of a medieval clash of cultures--in which new gods collide with old, science defies all expectation, and virtue comes in many guises. Brimming with adventure and narrative invention, "The Legend of Broken "is an exhilarating and enthralling masterwork.
Praise for "The Legend of Broken"
"An excellent and old-fashioned entertainment . . . "The Legend of Broken" seamlessly blends epic adventure with serious research and asks questions that men and women grappled with in the Dark Ages and still do today."--"The Washington Post
"
" A] colossal effort . . . a fantasy epic . . . meant as an allegory, a cautionary tale for our precarious times. To make his points, Carr has summoned a dream team of soldiers, wizards, and tiny forest folk."--"The New York Times Book Review"
"Carr keeps the action hurtling along with a steady diet of gruesome murders and political betrayals. And he clearly wants modern readers to see something of their own world in the political corruption and greed that ultimately doom Broken."--"The Boston Globe"

"From the Hardcover edition."