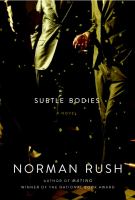 From 1978 to 1983, Rush and his wife served as codirectors of a Peace Corps project in Botswana, and his three works of fiction-including the National Book Award winner Mating-are all set in Africa. Here, the geography is different and the tone frothier, but the sharp observations about negotiating adulthood remain. When the charismatic Douglas dies suddenly, college friends gather at his Hudson River estate as narrator Ned ponders what really bound them together.
---
His long-awaited new novel: a sophisticated romp through the tribulations and particular joys of marriage and friendship as a group of college friends reunites 20-some years after graduation...a novel filled with unexpected, funny, telling aperçus, alongside a deeper, moving exploration of the meanings of life.

When Douglas, the ringleader of a clique of self-styled wits of "superior sensibility" dies suddenly, his four remaining friends are summoned to his luxe estate high in the Catskills to memorialize his life and mourn his passing. Responding to an obscure sense of emergency in the call, Ned, our hero, flies in from San Francisco (where he is the main organizer of a march against the impending Iraq war), pursued instantly by his furious wife Nina: they're at a critical point in their attempt to get Nina pregnant, and she's ovulating! And it is Nina who gives us a pointed, irreverent commentary as the friends begin to catch up with one another. She is not above poking fun at some of their past exploits and the things they held dear, and she's particularly hard on the departed Douglas, who she thinks undervalued her Ned. Ned is trying manfully to discern what it was that made this clutch of souls his friends to begin with before time, sex, work, and the brutal quirks of history shaped them into who they are now--and, simultaneously, what will come next.