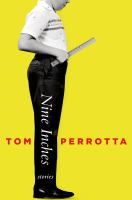 The 12 stories in this first collection by New York Times best-selling author Perrotta include "The Smile on Happy Changs Face," the Boston Book Festivals first One City, One Story selection.
---
The new collection from the "New York Times" bestselling author of "The Leftovers" and "Little Children," featuring stories focusing on Perrottas familiar suburban nuclear families
Tom Perrottas first book, "Bad Haircut," consisted of linked stories featuring a shared protagonist. Now, nineteen years later, he has written and compiled his first true short story collection. This twelve story book features a group set in Perrottas trademark suburban setting, focusing on the fissures in families and unexpected connections among members of typical American communities, including "Senior Season" and "Nine Inches." Others offerings here showcase Perrottas assured, smooth writing, but may surprise fans with new protagonists and concerns. One of these twistier stories is "The Smile on Happy Changs Face," which was the Boston Book Festivals first all-city One City, One Story selection in 2010.
Following up on his dramatic and bestselling novel "The Leftovers," which is being developed by HBO as a series, " Nine Inches" is a varied and interesting book from one of our most thoughtful and elegant writers.