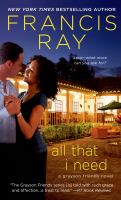 "In bestselling author Francis Rays latest Grayson Friends novel, two lost souls come together to discover what matters most of all..."
LOVE COMES WITH NO GUARANTEE
Lance Saxton is a self-made man who enjoys every moment of his success. Running an auction house allows him to manage his own time and travel the world on a moments notice--so why rush to settle down? The question answers itself...until he crosses paths with a beautiful, spirited travel writer who makes him second-guess his sense of independence--and leaves him wanting more.
BUT ITS ALWAYS WORTH THE RISK...
Whats love got to do with it? Fallon Marshall is at the peak of her career as a journalist. Any story she wants she can get. So when she hears about an auction being held at a fabled old estate in Santa Fe, New Mexico, off she goes...only to meet a man who makes her question her priorities. Maybe its time for Fallon to stop running away in search of adventure...and just fall into Lances arms?