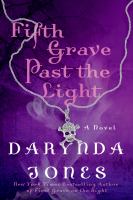 After winning a RITA Award for Best First Book for First Grave on the Right, Jones has led this series to New York Times bestsellerdom. Now, in the fifth book, grim reaper Charley Davidson must call on dazzling but big-trouble Reyes Farrow, the son of Satan himself, when victims of a serial killer swamp her apartment and her sister looks like the next victim. Of course theres payback.
---
Never underestimate the power of a woman
on a double espresso with a mocha latte chaser high.
--T-shirt
Charley Davidson isn't your everyday, run-of-the-mill grim reaper. She's more of a paranormal private eye/grim reaper extraordinaire. However, she gets sidetracked when the sexy, sultry son of Satan, Reyes Farrow, moves in next door. To further complicate matters, Reyes is her main suspect in an arson case. Charley has vowed to stay away from him until she can find out the truth...but then dead women start appearing in her apartment, one after another, each lost, confused, and terrified beyond reason. When it becomes apparent that her own sister, Gemma, is the serial killer's next target Charley has no choice but to ask for Reyes' help. Arsonist or not, he's the one man alive who could protect Gemma no matter who or what came at her. But he wants something in return. Charley. All of her, body and soul. And to keep her sister safe, it is a price she is willing to pay.
Charley Davidson is at it again in Fifth Grave Past the Light, the sexy, suspenseful, and laugh-out-loud funny fifth installment of the New York Times bestselling series by Darynda Jones.