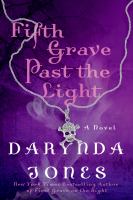 After winning a RITA Award for Best First Book for First Grave on the Right, Jones has led this series to New York Times bestsellerdom. Now, in the fifth book, grim reaper Charley Davidson must call on dazzling but big-trouble Reyes Farrow, the son of Satan himself, when victims of a serial killer swamp her apartment and her sister looks like the next victim. Of course theres payback.
---
Never underestimate the power of a woman
on a double espresso with a mocha latte chaser high.