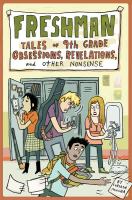 A humorous graphic novel with quirky illustrations, Freshman is a great read for anyone who currently is a freshman--or who ever was.
---
Annie has just started high school and she's a mess. Her older brother told her that her freshman year will strongly affect the rest of her life, and if that's true her future is looking grim: she's a loser at sports, is jealous of everyone, and has totally fallen in love with her best friend's older brother

When she gets cast as a moaning, hunched-over old lady in the school play, she starts to forget about the rest of her life. Now she just wants to make it through freshman year. This unique take on the beginning of a new school venture will make the perfect back-to-school gift.