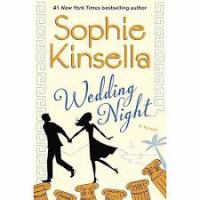 "NEW YORK TIMES "BESTSELLER
Lottie just knows that her boyfriend is going to propose during lunch at one of Londons fanciest restaurants. But when his big question involves a trip abroad, not a trip down the aisle, shes completely crushed. So when Ben, an old flame, calls her out of the blue and reminds Lottie of their pact to get married if they were both still single at thirty, she jumps at the chance. No formal dates--just a quick march to the altar and a honeymoon on Ikonos, the sun-drenched Greek island where they first met years ago.
Their family and friends are horrified. Fliss, Lotties older sister, knows that Lottie can be impulsive--but surely this is her worst decision yet. And Bens colleague Lorcan fears that this hasty marriage will ruin his friends career. To keep Lottie and Ben from making a terrible mistake, Fliss concocts an elaborate scheme to sabotage their wedding night. As she and Lorcan jet off to Ikonos in pursuit, Lottie and Ben are in for a honeymoon to remember, for better . . . or worse.
Advance praise for "Wedding Night"
" "
"Author of the popular Shopaholic series, Sophie] Kinsella has again created a fast-paced, hilarious comedy filled with bubbly banter and a charming cast of characters. The lovers (more self-deluded than star-crossed) are delightfully flawed, and the rivals are sweetly vulnerable. Bright, bouncy, engaging and perfect for filming."--"Kirkus Reviews"
"Theres plenty of silly fun to be had in this charming comedy of errors."--"Booklist"
"Kinsella fans will be charmed."--"Publishers Weekly"
"From the Hardcover edition."