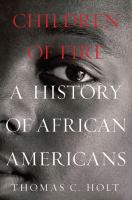 University of Chicago professor Holt tells this story not through the traditional divides of history-the antebellum period, Civil War, etc.-but through an accounting of individual lives lived across those divides. Consider for most libraries.
---
Ordinary people don't experience history as it is taught by historians. They live across the convenient chronological divides we impose on the past. The same people who lived through the Civil War and the eradication of slavery also dealt with the hardships of Reconstruction, so why do we almost always treat them separately? InChildren of Fire, renowned historian Thomas C. Holt challenges this form to tell the story of generations of African Americans through the lived experience of the subjects themselves, with all of the nuances, ironies, contradictions, and complexities one might expect.
Building on seminal books like John Hope Franklin'sFrom Slavery to Freedomand many others, Holt captures the entire African American experience from the moment the first twenty African slaves were sold at Jamestown in 1619. Each chapter focuses on a generation of individuals who shaped the course of American history, hoping for a better life for their children but often confronting the ebb and flow of their civil rights and status within society. Many familiar faces grace these pages--Frederick Douglass, W.E.B. DuBois, Martin Luther King, and Barack Obama--but also some overlooked ones. Figures like Anthony Johnson, a slave who bought his freedom in late seventeenth century Virginia and built a sizable plantation, only to have it stolen away from his children by an increasingly racist court system. Or Frank Moore, a WWI veteran and sharecropper who sued his landlord for unfair practices, but found himself charged with murder after fighting off an angry white posse. Taken together, their stories tell how African Americans fashioned a culture and identity amid the turmoil of four centuries of American history.