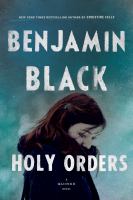 Even if Gabriel Byrne werent starring in a new BBC series based on the Quirke novels, fans will be clamoring for this latest in the series. And even those unacquainted with Quirke could be interested, because the novel, though set in the 1950s, addresses painfully relevant issues. Dublin pathologist Quirke is aghast when a friend of his daughters lands on his autopsy table; investigation implicates the Church in pedophilia and murder.
---
When the body of his daughter's friend is brought to his autopsy table, Quirke is plunged into a world of corruption that takes him to the darkest corners of the Irish Church and State.
"At first they thought it was the body of a child. Later, when they got it out of the water and saw the pubic hair and the nicotine stains on the fingers, they realized their mistake."
So beginsHoly Orders,the latest Quirke case set in Dublin at a moment when newspapers are censored, social conventions are strictly defined, and appalling crimes are hushed up. Why? Because in 1950s Ireland the Catholic Church controls the lives of nearly everyone. But when Quirke's daughter Phoebe loses her close friend Jimmy Minor to murder, Quirke can no longer play by the Church's rules. Along with Inspector Hackett, his sometime partner, Quirke investigates Jimmy's death and learns just how far the Church and its supporters will go to protect their own interests.
Haunting, fierce, and brilliantly plotted, this is Benjamin Black writing at the top of his form. His inimitable creation, the endlessly curious Quirke, brings a pathologist's unique understanding of death to unlock the most dangerous of secrets.