Summary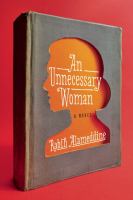 ""An Unnecessary Woman" dramatizes a wonderful mind at play. The mind belongs to the protagonist, and it is filled with intelligence, sharpness and strange memories and regrets. But, as in the work of Calvino and Borges, the mind is also that of the writer, the arch-creator. His tone is ironic and knowing; he is fascinated by the relationship between life and books. He is a great phrase-maker and a brilliant writer of sentences. And over all this fiercely original act of creation is the sky of Beirut throwing down a light which is both comic and tragic, alert to its own history and to its mythology, guarding over human frailty and the idea of the written word with love and wit and understanding and a rare sort of wisdom."--Colm Toibin
One of Beiruts most celebrated voices, Rabih Alameddine follows his international bestseller, "The Hakawati," with a heartrending novel that celebrates the singular life of an obsessive introvert, revealing Beiruts beauties and horrors along the way.
Aaliya Sohbi lives alone in her Beirut apartment, surrounded by stockpiles of books. Godless, fatherless, divorced, and childless, Aaliya is her familys "unnecessary appendage." Every year, she translates a new favorite book into Arabic, then stows it away. The thirty-seven books that Aaliya has translated have never been read--by anyone. After overhearing her neighbors, "the three witches," discussing her too-white hair, Aaliya accidentally dyes her hair too blue.
In this breathtaking portrait of a reclusive womans late-life crisis, readers follow Aaliyas digressive mind as it ricochets across visions of past and present Beirut. Insightful musings on literature, philosophy, and art are invaded by memories of the Lebanese Civil War and Aaliyas volatile past. As she tries to overcome her aging body and spontaneous emotional upwellings, Aaliya is faced with an unthinkable disaster that threatens to shatter the little life she has left.
A love letter to literature and its power to define who we are, the gifted Rabih Alameddine has given us a nuanced rendering of a single womans reclusive life in the Middle East.