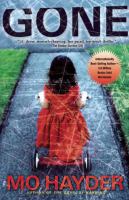 Jack Caffery realizes that the carjacker he's pursuing was actually going for the 11-year-old in the back seat. Hayder, who's reaped lots of attention, including finalist status for a Barry Award and the Crime Writers' Association's Dagger Award, has always struck me as pretty riveting. For all thriller readers.
---
Praised as a "maestro of the sinister" by the New York Daily News, Mo Hayder delivers her most suspenseful novel to date. By turns thrilling and horrifying, Gone follows the investigation of a brilliant and twisted carjacker with a disturbing game to play.

Jack Caffery's newest case seems like a routine carjacking, a crime he's seen plenty of times before. But as the hours tick by and his investigation morphs into a nightmare, he realizes the sickening truth: the thief wasn't after the car, but the eleven-year-old girl in the backseat. Meanwhile police diver Sergeant Flea Marley is pursuing her own theory of the case, and what she finds in an abandoned, half-submerged tunnel could put her in grave danger. The carjacker is always a step ahead of the Major Crime Investigation Unit, toying with their minds in taunting letters and ready to strike again. As the chances for his victims grow slimmer, Jack and Flea race to fit the pieces together in time.

Gone is Mo Hayder at her terrifying best. Each dark and captivating twist reveals a new dimension to this tight-knight plot, burrowing deeper into the chilling and clever world Mo Hayder creates.