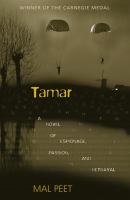 From the author of the acclaimed "Keeper" comes a powerfully moving, Carnegie Medal-winning story about love, lies, and secrets set against the daily fear and horror of Nazi-occupied Holland.
---
In England in 1995, fifteen-year-old Tamar, grief-stricken by the puzzling death of her beloved grandfather, slowly begins to uncover the secrets of his life in the Dutch resistance during the last year of the Nazi occupation of the Netherlands, and the climactic events that forever cast a shadow on his life and that of his family.
---
From acclaimed British sensation Mal Peet comes a masterful story of adventure, love, secrets, and betrayal in time of war, both past and present. When her grandfather dies, Tamar inherits a box containing a series of clues and coded messages. Out of the past, another Tamar emerges, a man involved in the terrifying world of resistance fighters in Nazi-occupied Holland half a century before. His story is one of passionate love, jealousy, and tragedy set against the daily fear and casual horror of the Second World War -- and unraveling it is about to transform Tamar's life forever.