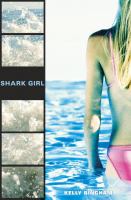 Fifteen-year-old Jane Arrowood struggles through a physical loss to the start of acceptance in this absorbing, artful novel which is at once honest and insightful, wrenching and redemptive.
---
After a shark attack causes the amputation of her right arm, fifteen-year-old Jane, an aspiring artist, struggles to come to terms with her loss and the changes it imposes on her day-to-day life and her plans for the future.
---
"This engaging read will entice enthusiastic and reluctant readers; the drama of the shark attack will hook them, and Jane's inner journey will hold them till the end." -- SCHOOL LIBRARY JOURNAL (starred review) On a sunny day in June, at the beach with her mom and brother, fifteen-year-old Jane Arrowood went for a swim. And then everything -- absolutely everything -- changed. Now she's counting down the days until she returns to school with her fake arm, where she knows kids will whisper, "That's her -- that's Shark Girl," as she passes. In the meantime there are only questions: Why did this happen? Why her? What about her art? What about her life? In this striking first novel, Kelly Bingham uses poems, letters, telephone conversations, and newspaper clippings to look unflinchingly at what it's like to lose part of yourself - and to summon the courage it takes to find yourself again.