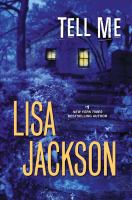 #1 New York Times bestselling author Lisa Jackson creates her most electrifying thriller to date, as a mothers unspeakable crime sparks a new killing spree. . .

The most hated woman in Savannah, Georgia, is about to be set free. Twenty years ago, Blondell OHenry was convicted of murdering her daughter and wounding her two other children.

Now Blondells son, Niall, has recanted his testimony and demolished the case in the process. Reporter Nikki Gillette is determined to get the true story, and not just for professional reasons. Blondells murdered daughter, Amity, was Nikkis childhood friend.

Nikkis fianc, Detective Pierce Reed, is concerned she may be compromising the case. As she digs for answers during one of the most sweltering summers in Savannahs history, he also worries for her safety. Everyone involved seems to have secrets, . And somehow, the events of that tragic night connect to Nikkis own fractured family. But now the killing has begun again. Is Amitys murderer still at large, or is this a new, darker danger?