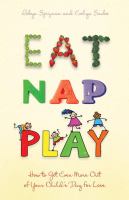 Parents spend over $200,000 before a child's 18th birthday. In Money-Free Monday to Sunday, moms will get the spending under control by spending and find new ways to entertain their kids without losing their minds or emptying their wallets!
---
Rock Your Routine and Be the Happiest Mommy on the Block
Moms will concur--routines and creative ideas help your day and save your sanity. And once you've established a routine that works, the inclination is to stick with it until the kids are off to college. But sometimes the rigidity of a 'tight ship' doesn't allow much time for good-old fashioned, spur-of-the-moment fun. Well, hang on to your itinerary because here comes Eat, Nap, Play
Written by moms for moms, this timely guide centers on back-to-basics philosophies: spend quality time with your kids and spend less money. But this is not a guilt trip--it's a fun-filled adventure. Jam-packed with clever, cost-effective, low-maintenance, often nostalgic ideas you can easily slip into your existing routine, Eat, Nap, Play shows you how to turn everyday mayhem into precious moments to build memories, foster growth, strengthen bonds, and just have fun.
Simple trips to the mall or grocery store transform into treasure troves of adventure
Beat boredom in unique and unexpected ways while in the car or on the go
Find out how to plan the perfect, age-appropriate parties for less
Get the most out of the latest technology and discover a ton of useful websites along the way
Plus, unearth cash-free ways for kids to learn, socialize, and grow into independent and resilient people