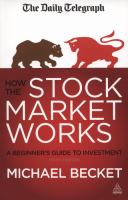 How the Stock Market Works provides a clear, insightful and practical explanation of the way the UK's investment and financial markets operate, and their interaction with other financial markets around the world.
---
Managers, students or interested readers who need to understand the basic structure of the stock market and the UK's financial system.
---

People are constantly being affected by the fluctuations in the global economy and by financial uncertainty - with major impacts on their savings, portfolios and pensions. Some might see recessions as the very worst time to invest in the stock market, but many of the world's most successful investors insist that a market downturn is the very moment when people should be investing.
Fully updated for this fourth edition, "How the Stock Market Works" tells investors what is being traded and how, who does what and to whom, and how to evaluate both the shares and the proponents' claims about them. Covering crucial issues such as the practical consequences of being a shareholder, this book provides a wealth of information on the stock market and how to use it one's advantage.