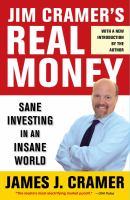 Now in paperback, from "the media's most electrifying market pundit" (USA TODAY): Jim Cramer tells investors how to weather the storms on Wall Street and prepare for the next bull market.
• National bestseller: Jim Cramer's Real Money has been on the New York Times extended Advice, How-to & Misc. best- seller list, the Wall Street Journal business bestseller list, the BusinessWeek bestseller list, and the USA TODAY Top 100 list.
• In uncertain markets, investors turn to Cramer: As Wall Street has melted down, more viewers than ever have been watch- ing Jim Cramer on CNBC for advice on what to do. Cramer has warned investors about the short-term perils of the current market, but he remains bullish on stocks in the long term.
• A positive and empowering message: Cramer believes—not unlike Peter Lynch— that the average investor can make some real discoveries and can succeed as a stock picker, provided that his enthusiasm for speculative stocks—the ones that can be big winners but also often go bust—is tempered by a prudent portfolio.