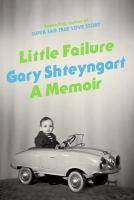 Author of celebrated novels like Super Sad True Love Story, Shteyngart actually produced his first literary work, Lenin and His Magical Goose, at age five. In this funny memoir, he recalls his early years in the crumbling Soviet Union, then at age seven coming to America-land of the enemy-following a deal between presidents Carter and Brezhnev guaranteeing Soviet Jews safe passage in exchange for U.S. grain. The hapless Shteyngart didn't fit in and surely wasn't going to be a lawyer, as his parents wanted; hence his mother's more or less affectionate nickname for him, Failurchka-that is, Little Failure. She was wrong.
---
After three acclaimed novels, Gary Shteyngart turns to memoir in a candid, witty, deeply poignant account of his life so far. Shteyngart shares his American immigrant experience, moving back and forth through time and memory with self-deprecating humor, moving insights, and literary bravado. The result is a resonant story of family and belonging that feels epic and intimate and distinctly his own.
Born Igor Shteyngart in Leningrad during the twilight of the Soviet Union, the curious, diminutive, asthmatic boy grew up with a persistent sense of yearning--for food, for acceptance, for words--desires that would follow him into adulthood. At five, Igor wrote his first novel, "Lenin and His Magical Goose, "and his grandmother paid him a slice of cheese for every page.
In the late 1970s, world events changed Igor's life. Jimmy Carter and Leonid Brezhnev made a deal: exchange grain for the safe passage of Soviet Jews to America--a country Igor viewed as the enemy. Along the way, Igor became Gary so that he would suffer one or two fewer beatings from other kids. Coming to the United States from the Soviet Union was equivalent to stumbling off a monochromatic cliff and landing in a pool of pure Technicolor.
Shteyngart's loving but mismatched parents dreamed that he would become a lawyer or at least a "conscientious toiler" on Wall Street, something their distracted son was simply not cut out to do. Fusing English and Russian, his mother created the term "Failurchka"--Little Failure--which she applied to her son. With love. Mostly.
As a result, Shteyngart operated on a theory that he would fail at everything he tried. At being a writer, at being a boyfriend, and, most important, at being a worthwhile human being.
Swinging between a Soviet home life and American aspirations, Shteyngart found himself living in two contradictory worlds, all the while wishing that he could find a real home in one. And somebody to love him. And somebody to lend him sixty-nine cents for a McDonald's hamburger.
Provocative, hilarious, and inventive, "Little Failure" reveals a deeper vein of emotion in Gary Shteyngart's prose. It is a memoir of an immigrant family coming to America, as told by a lifelong misfit who forged from his imagination an essential literary voice and, against all odds, a place in the world.

Advance praise for "Little Failure
"
"Many, many people in this world have received blurbs from Gary Shteyngart, but I happen not to be one of them. So you can trust me when I say: "Little Failure" is a delight. You ask me if it's funny? Naturally it's funny--he's always funny. But alongside the jokes and the (frankly unbelievable) photos, you'll find deep feeling on display, and shimmering sentences, and a marvel of a story."--Zadie Smith, "New York Times "bestselling author of "NW "and "White Teeth
"
"A memoir for the ages . . . I spat laughter on the first page and closed the last with wet eyes. Unputdownable in the day and a half I spent reading it, "Little Failure" is a window into immigrant agony and ambition, Jewish angst, and anybody's desperate need for a tribe."--Mary Karr, bestselling author of "Lit "and" The Liars' Club
"
"I'm always wary when a young writer offers up a memoir, but Gary Shteyngart delivers big-time with "Little Failure.""--Carl Hiaasen, "New York Times "bestselling author of "Bad Monkey"