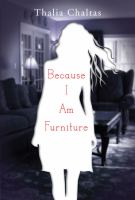 The youngest of three siblings, fourteen-year-old Anke feels both relieved and neglected that her father abuses her brother and sister but ignores her, but when she catches him with one of her friends, she finally becomes angry enough to take action.
---
Read Thalia Chaltas's posts on the Penguin Blog.
Anke's father is abusive. But not to her. He attacks her brother and sister, but she's just an invisible witness in a house of horrors, on the brink of disappearing altogether. Until she makes the volleyball team at school. At first just being exhausted after practice feels good, but as Anke becomes part of the team, her confidence builds. When she learns to yell "Mine!" to call a ball, she finds a voice she didn't know existed. For the first time, Anke is seen and heard. Soon, she's imagining a day that her voice will be loud enough to rescue everyone at home--including herself.