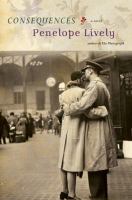 "London, 1935: A chance meeting on a park bench on the eve of World War II sets in motion a love affair that reverberates through three generations. Matt and Lorna are deeply, defiantly, in love; they marry, and Lorna is pregnant when Matt is called for duty. But the war means Matt's death in action; it cuts short his artist's career and changes the course of Lorna's life. The war means that Lorna will marry again, and that Molly, their daughter, will grow up in a blasted landscape of bomb-sites and boarded windows, of households reconfigured by loss. But a chance look at a forgotten newspaper on the London tube leads Molly into her first job - and into the life of James Portland, a wealthy man she cannot love; and the postwar period gives way to a new era. Thirty years later, Ruth, Molly's own daughter, leaves her marriage for a journey that takes her back to 1941, to a new resolution of her own history and that of her family."--BOOK JACKET.
---
The Booker Prize-winning author's first novel since The Photographis a sweeping saga of three generations of women, their lives, and loves

A chance meeting in St. James's Park begins young Lorna and Matt's intense relationship. Wholly in love, they leave London for a cottage in a rural Somerset village. Their intimate life together—Matt's woodcarving, Lorna's self-discovery, their new baby, Molly—is shattered with the arrival of World War II. In 1960s London, Molly happens upon a forgotten newspaper—a seemingly small moment that leads to her first job and, eventually, a pregnancy by a wealthy man who wants to marry her but whom she does not love. Thirty years later, Ruth, who has always considered her existence a peculiar accident, questions her own marriage and begins a journey that takes her back to 1941—and a redefinition of herself and of love.

Told in Lively's incomparable prose, Consequencesis a powerful story of growth, death, and rebirth and a study of the previous century—its major and minor events, its shaping of public consciousness, and its changing of lives.