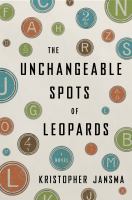 Why am I highlighting this contemporary picaresque? Jansma was a finalist for BOMB magazines 2011 fiction contest. Sales reps are already raving, as are their customers. And the story sounds so absorbing. The bright-eyed young narrator, an aspiring writer (yes, this is a debut novel), looks up to the gifted Julian McGann and falls hard for Julians lovely friend Evelyn. When this triangle implodes, the narrator attempts to sort himself out by traveling the world, from Sri Lanka to Manhattans jazz clubs. A writer to watch.
---
"F. Scott Fitzgerald meets Wes Anderson" (The Village Voice) in this inventive and witty debut about a young man's quest to become a writer and the misadventures in life and love that take him around the globe

From as early as he can remember, the hopelessly unreliable—yet hopelessly earnest—narrator of this ambitious debut novel has wanted to become a writer.

From the jazz clubs of Manhattan to the villages of Sri Lanka, Kristopher Jansma's irresistible narrator will be inspired and haunted by the success of his greatest friend and rival in writing, the eccentric and brilliantly talented Julian McGann, and endlessly enamored with Julian's enchanting friend, Evelyn, the green-eyed girl who got away. After the trio has a disastrous falling out, desperate to tell the truth in his writing and to figure out who he really is, Jansma's narrator finds himself caught in a never-ending web of lies.

As much a story about a young man and his friends trying to make their way in the world as a profoundly affecting exploration of the nature of truth and storytelling, The Unchangeable Spots of Leopards will appeal to readers of Tom Rachman's The Imperfectionists and Jennifer Egan's Pulitzer Prize–winning A Visit from the Goon Squad with its elegantly constructed exploration of the stories we tell to find out who we really are.