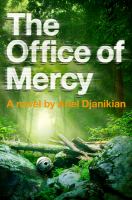 Having lived her whole life in the comforts of a high-tech underground colony called America-Five, 24-year-old Natasha Wiley is asked to join a team heading Outside for the first time. Billed as crossover dystopian fiction; The Hunger Games, anyone? See also Julianna Baggotts "Pure" trilogy (My Picks, p. 78).
---
A thrilling debut of a postapocalyptic world for fans of The Hunger Games

Weaving philosophy and science together into a riveting, dystopian story of love and adventure, The Office of Mercy illuminates an all-too-real future imagined by a phenomenal new voice in fiction.

Twenty-four-year-old Natasha Wiley lives in America-Five--a high-tech, underground, utopian settlement where hunger and money do not exist, everyone has a job, and all basic needs are met. But when her mentor and colleague, Jeffrey, selects her to join a special team to venture Outside for the first time, Natasha's allegiances to home, society, and above all to Jeffrey are tested. She is forced to make a choice that may put the people she loves most in grave danger and change the world as she knows it.

The Office of Mercy is speculative fiction at its best with a deeply imagined, lush world, high-stakes adventure, and romance that will thrill fans of Suzanne Collins, Margaret Atwood, Justin Cronin, and Kazuo Ishiguro.